Martha Rosler is an artist who works with multiple media, including photography, photo-text, sculpture, video, performance, and installation. Her interests are centered on the public sphere and landscapes of everyday life—actual and virtual—especially as they affect women. Related projects focus on housing, on the one hand, and systems of transportation, on the other. She has long produced works on war and the "national security climate," connecting everyday experiences at home with the conduct of war abroad. Other works, from bus tours to sculptural recreations of architectural details, are excavations of history.
Some of her most noteworthy video works confront the world crisis of macropolitics and home, worker explotation, and propoganda.  These works include:
Chile on the Road to NAFTA (97); Prototype: God Bless America (06), If It's Too Bad to Be True, It Could Be DISINFORMATION (85); A Simple Case for Torture, or How to Sleep at Night (83)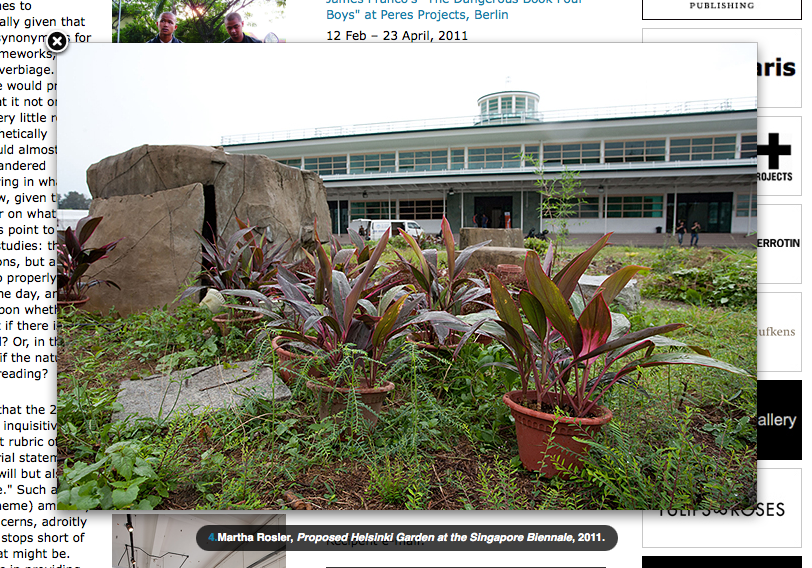 http://art-agenda.com/agenda/view/129
Rosler has had numerous solo exhibitions. If You Lived Here Still: An Archive Exhibition is a touring show based on If You Lived Here…, a ground-breaking cycle of exhibitions and forums on housing, homelessness, and the built environment that she organized in 1989 at Dia in New York. Originating at e-flux gallery, in New York, it has recently been exhibited at CASCO Center for Art, Design and Theory in Utrecht, Netherlands and at present is at La Virreina in Barcelona. The Martha Rosler Library toured nationally and internationally in 2005-2009.
Other recent solo exhibitions include those at Galleria d'Arte Contemporanea e Moderna, Torino; Portikus, Frankfurt; Centro Jose Guerrero, Granada; Institute of Contemporary Arts, London; and the International Biennial of the Moving Image, Geneva.  She was a founding member of United Nations Plaza School, Anton Vidokle's project in Berlin, Mexico City, and New York.
Her work has been included in many other group exhibitions, at the Centre Pompidou, Paris; PS1, New York; the International Center of Photography, New York; Reina Sofía, Madrid; Skulptur Projekte Münster 07; documenta 7 &12, Kassel; the Venice Biennale; Tate Modern, London; and many other international and national venues. Rosler has published 17 books of photography, art, and writing, in several languages; her essay book Decoys and Disruptions, was published by MIT Press in 2004. She was awarded the Spectrum International Prize in Photography in 2005 and the Oskar-Kokoschka Prize in 2006; she was the United States Artists Nimoy Fellow in 2008 and a Civitella Ranieri Fellow in 2009; IN 2010 she was awarded a Lifetime Achievement Award by New York's Guggenheim Museum. She is a renowned teacher and has lectured nationally and internationally.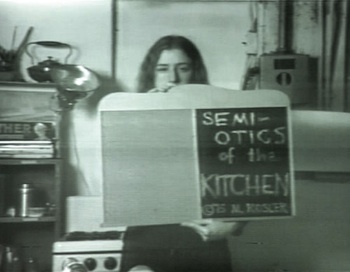 In 2003, the Whitechapel Gallery in London invited Martha Rosler to recreate her classic video Semiotics of the Kitchen (1975) as a live performance. She accepted the invitation by holding a casting call for women to reenact the piece; the "audition" would be the public event. Rosler's documentary video, Semiotics of the Kitchen: An Audition (2011), premiered earlier this week at Electronic Arts Intermix (EAI) in New York.
http://blog.art21.org/2011/01/21/gastro-vision-martha-roslers-kitchen-mise-en-scene/?utm_source=newsletter&utm_medium=email&utm_campaign=Art21_News

@khm mediathek:
Rosler, Martha   [Regie] : Vital statistics of a citizen, simply obtained  / Regie und Drehbuch: Martha Rosler . – Originalfassung . – Toronto  : Art Metropole , [S.a.] . – 1 Videokassette (VHS, 40 Min.) : farb. . – (Art Metropole 1/2 inch videotape series )
Sign.: VID V 1546 Znr.: 99 V 216
Performance Saga  : Begegnungen mit Wegbereiterinnen der Performancekunst  / Hrsg.: Andrea Saemann …. . – Zürich  : Fink . – DVD : farb. Rosler, Martha : Martha Rosler , 2008 . – 1 DVD (57 Min.) : farb. + 1 Textheft (28 S.) . – 978-3-03746-118-1 Interview 07 ;
Sign.: DVD V 2910 Znr.: 09 DV 394