Unmissable events at Schauspiel Köln: A play about Wikileaks and the NSA, a panel discussion with, among other figures central to current affairs, Jake Applebaum, and on Sunday, the beginning of a discussion series called Surviving under Surveillance.
Saturday 23 Nov 2013: Assassinate Assange – Reloaded
von Angela Richter
Regie: Angela Richter
ANSCHLIESSEND PANEL (IN ENGL. SPRACHE) MIT JACOB APPELBAUM (JOURNALIST), RENATA AVILA (MENSCHENRECHTSANWÄLTIN), JOSEPH FARRELL (WIKILEAKS), ANGELA RICHTER, JENNIFER ROBINSON (RECHTSBERATUNG WIKILEAKS). DAS GESPRÄCH FÜHRT JOHN GOETZ (JOURNALIST).
Sunday 24 Nov: Assassinate Assange – Reloaded
von Angela Richter
Regie: Angela Richter
Anschliessend Diskussionsreihe
Überleben unter Überwachung
Jacob Appelbaum lädt ein
MODERATION ANGELA RICHTER
http://www.schauspielkoeln.de/spielplan/
We'll make the Sunday events an excursion, keep your ticket and receipt, and we'll reimburse you.
Some selected material on Applebaum: His keynote talk at last year's Chaos Communication Congress:
And an interview in N+1 mag. Note, both of these are from before the NSA revelations, and in retrospect look quite lucent. Quote:
But the thing is, taking precautions with your communications is like safe sex in that you have a responsibility to other people to be safe—your transgressions can fuck other people over. The reality is that when you find out it will be too late. It's not about doing a perfect job, it's about recognizing you have a responsibility to do that job at all, and doing the best job you can manage, without it breaking down your ability to communicate, without it ruining your day, and understanding that sometimes it's not safe to undertake an action, even if other times you would.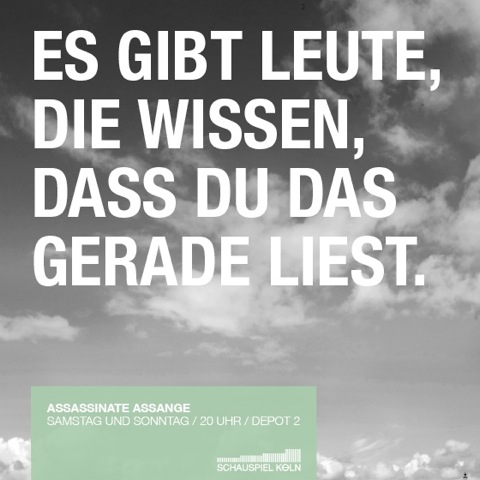 Postscript:
I have some comments and notes that I would like to share with you, but please post yours here below first (anonymously if you like).
Also:
A good and a bad review: http://www.ksta.de/kultur/mrs-heart,15189520,25127138.html
The bad one is more interesting: http://www.faz.net/aktuell/feuilleton/buehne-und-konzert/mister-heart-12679064.html
If I may translate the last paragraph, about the power of art:
"All the theater would need to do, in order to do justice to the issues at heart, is 'just' to develop the self-confidence and go back to its roots and trust its artistic powers and possibilities. Then it would be, by pulling the audience into a process of understanding that is, by being subjective, ambiguous, playful and exceeding the simple transmission of information, the last public space that the NSA can not spy on. A medium that would be as suspicious as it would be indispensable."
Im Original:
"Dabei müsste das Theater, um dem Thema gerecht zu werden, "nur" das Selbstbewusstsein entwickeln, sich auf die eigenen Wurzeln zu besinnen und seinen künstlerischen Möglichkeiten zu vertrauen. Dann wäre es, wie es den Zuschauer in einen subjektiven, vieldeutigen, spielerischen, über die bloße Mitteilungsebene weit hinausgehenden Verstehensprozess zieht, der letzte öffentliche Ort, in den die NSA nicht hineinspionieren kann. Und als Medium so verdächtig wie unverzichtbar."